[Interview Vol.1/2] CREAM 'I Got So into Bob Marley When I Was in Elementary School.'
Have heard of CREAM, an upcoming duo by a singe-songwriter Minami and a rapper/track maker Staxx T?
CREAM released their major debut album 'DREAMIN'' on Feb 27th 2013, also on the side, they have collaborated with TERIYAKI BOYZ(R) and VERBAL, and produced songs for m-flo, Namie Amuro, BoA, V6. Their own YouTube channel called 'CREAM VISION' has made 1,300,000hits with unique contents including live performance, remix and, original and cover songs. This interview brings this creator duo, who are about to launch into world market, into the spotlight.
- - -
-How do you perceive CREAM's music style? It's personally interesting that the sound is more like US/UK music but it comes with Japanese lyrics.
Minami: I would start the melody with English lyrics and have it re-written by Staxx in Japanese. Some people just hum the melody but I write in English to keep the English flow.
Staxx T: That brings the English-like rhythm to the songs.
Minami: I think changing English lyric to Japanese lyric is the key to the sound. Staxx also pursue UK/US style when it comes to his rap part. Likewise in song forms.
Staxx T: Yeah, I really listen to the flow of the song even when I listen to English hip-hop. For instance, every consonant comes with a vowel in Japanese, which makes the language flat-sounding. So I formed a way of cutting the vowels off as much as I can and I have Minami do the same on the lyric..Like... when she sings 'Mada Kaeritakunai', maybe we can cut off 'U' out of 'Kaeritakunai'. This makes it sound like English. Cutting of vowels like this is my own way to create the flow.
-I see. The UK/US sound comes from cutting off the vowels that make the lyric sound like Japanese.
Staxx T: Exactly. That makes some flow possible even it seems impossible in the original Japanese sound with all the vowels in. They formed a habit of engineering those vowels, creating our own style.
-Are you trying to appeal to J-Pop listeners by sticking to Japanese lyrics while you pursue UK/US sound?
Staxx T: Yeah, it doesn't mean a thing if they don't react.
Minami: The name, J-Pop represents itself, being popular among the crowd.
Staxx T: Yeah 'Popular'
Minami: Yeah, we wanna make J-Pop No.1 hit. So we have been making songs that appeal to fans from many genres, applying EDM (Electro Dance Music) to our songs.
-That means even though your main genre is hip-hop but a variety of music has been your roots?
Staxx T: Ever since I got hip to hip-hop I listened only to hip-hop. The first one I listened to was Takashi Furuya from Dragon Ash. I was such a fan to dig his indie stuff even after his hit of 'Grateful Days' and 'Deep Impact'. I thought rapping has more words and thoughts and different ways to approach the audience than R&B singers. That's where I started hip-hop. Then I started listening to US hip-hop. It was when Ja Rule and Nelly were insanely big hits.
Minami:Yeah, hip-hop was at its top.
Staxx T: It was the time of rap 'Beef' between NAZ and Jay Z that I started digging NAZ. After going through this and that I kind of settled down to Southern hip hop. Lil John's synthesizer sound has been the biggest inspiration and that's when I started making tracks. That's where I came from.
-With that in mind, I totally understand the influence of those roots in 'DREAMIN`'
Staxx T: Yeah, especially the title track 'DREAMIN`' really shows my southern influences.
-How about your musical roots, Minami?
Minami:I'm born in Hong Kong when it was still a part of England (*Hong Kong was returned to China in 1997), so I listened to a lot of Brit-pop. I was crazy about Spice Girls when I was in the 1st and 2nd grade. Then I crossed-over to US Pop, listing to Back Street Boys, N'sync, a kind of Justin Bieber in those days. Then I started digging Bob Marley.
Staxx T: That's sick!
Minami: (Laugh) Bob Marley posters all over my walls.
-It's impossible to think of a 6th grader digging Bob Marley.
Staxx T: No way. You can't appreciate Bob Marley when you're 11, I guess.
Minami: My cousins loved Reggae music and they introduced it to me. Also my parents were just back from Jamaica, and that drew my attention. I came across hip-hop, artists from Murder Inc (currently 'The Inc Records')
Staxx T: I can tell. You love Ashanti.
Minami: I love her! I respect artist like her, who writes her own melody. Especially she used to have 4 songs in top 10 charts. She even wrote for Jennifer Lopez. I was like 'That's Ashanti, again!!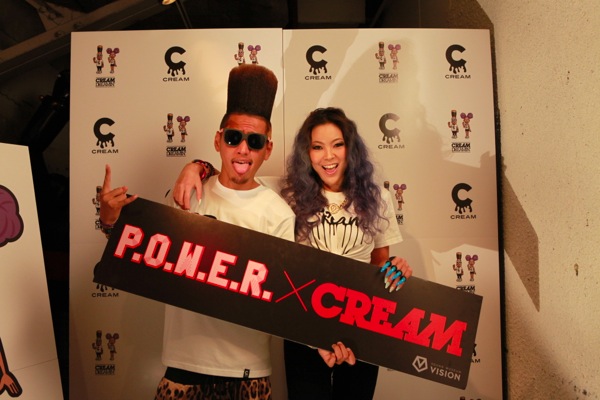 TOP Page
This article is seen with the PC version.